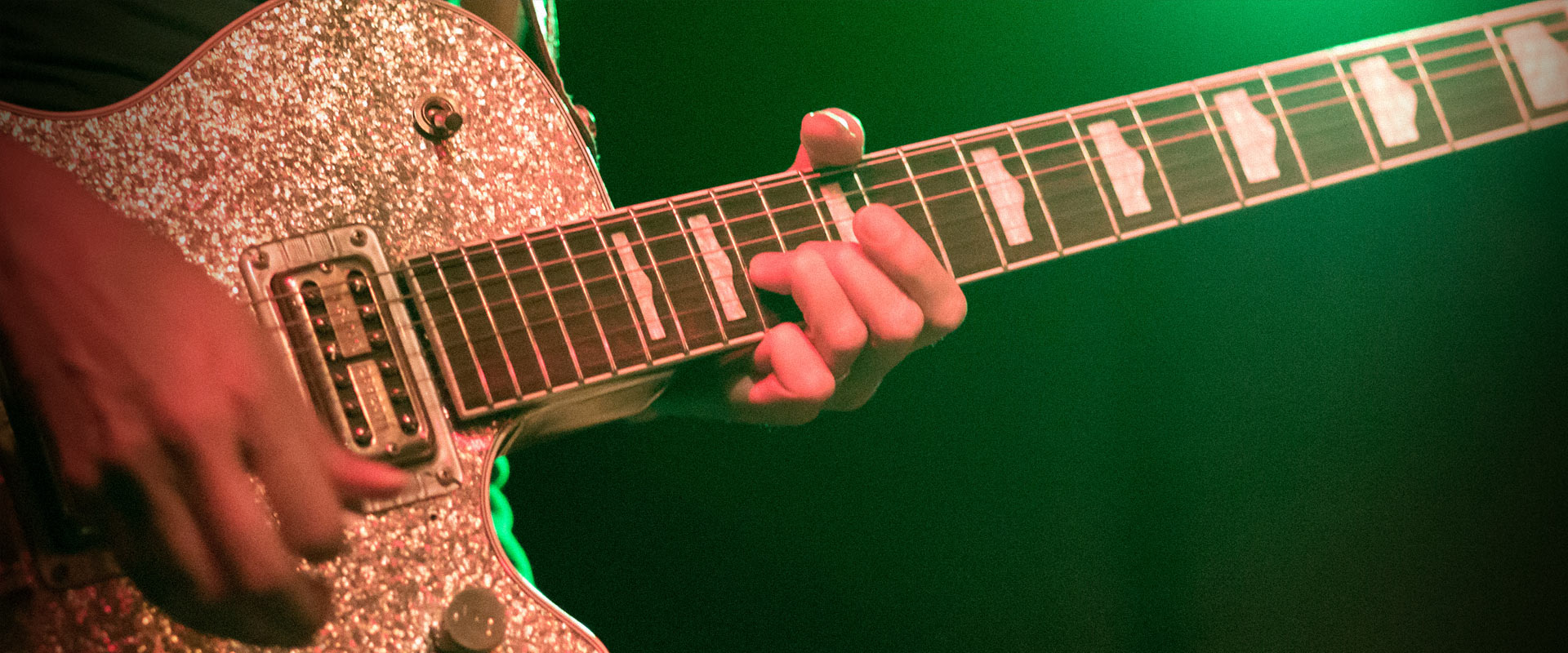 We're always searching for a new piece of the sonic puzzle that we can bring to life in performance. That's when we feel the most intensely alive and connected. Music is our obsession.
New York melodic rock band Slyboots formed the way many of the best bands do these days: hard work and a little luck. KG* Noble (guitar/vocals) and Margaret LaBombard (bass) had been playing together in bands for years. When they found themselves in need of a new vocalist they turned to their trusty network of local musicians including the legendary Sal Maida, of Roxy Music and Sparks. As luck would have it, Tiffany Lyons (lead vocals) had just played an Irish Festival in her hometown of Rockaway Beach, NY with Sal on bass. He was so impressed with her singing that he immediately recommended that she get in touch with his friends. The connection was magical. 
Rounding out the band are Margaret's husband Ted Marcus, who played drums with the Meat Puppets, and JayJay Lozano on keys and vocals. They share the ladies' philosophy of listening and serving the song first, even if that means playing less.
Growing up, Tiffany listened to everything from Judy Garland to Nina Simone. But most of all, she's an ardent admirer of Barbara Streisand's mythic career in music, film, and stage. She believes that singing is about heartfelt expression and "allowing that part of yourself to be free and to be a conduit for emotions everyone feels and experiences."  As an army brat- her mother is a retired Lt. Colonel – she traveled a lot, learning to adapt and become part of new communities. Over the years she's become an "international southern New Yorker" with a passion for thrifting, "Wherever I am, if there is a thrift store/vintage store/consignment shop/pawn shop…I have to stop in. Who knows what treasures await those who take the time to seek?"  And if you seek her online you may even spot her modeling vintage treasures in breezy locales. Her eclectic approach to life translates well to a live set – pulling the audience in with her velvet voice and worldly energy.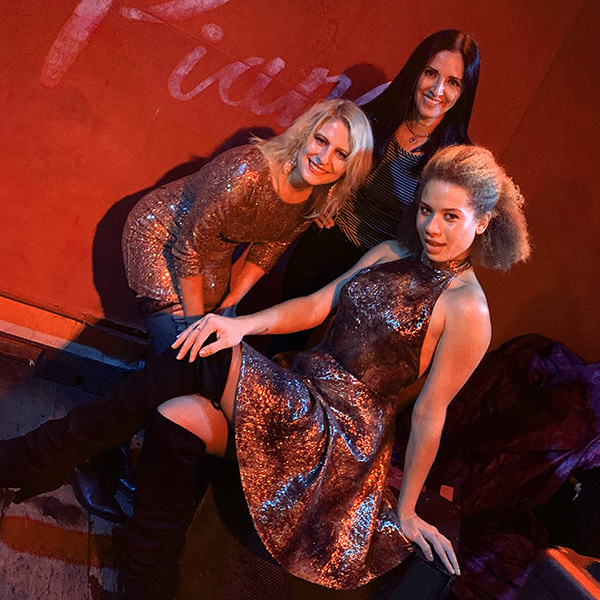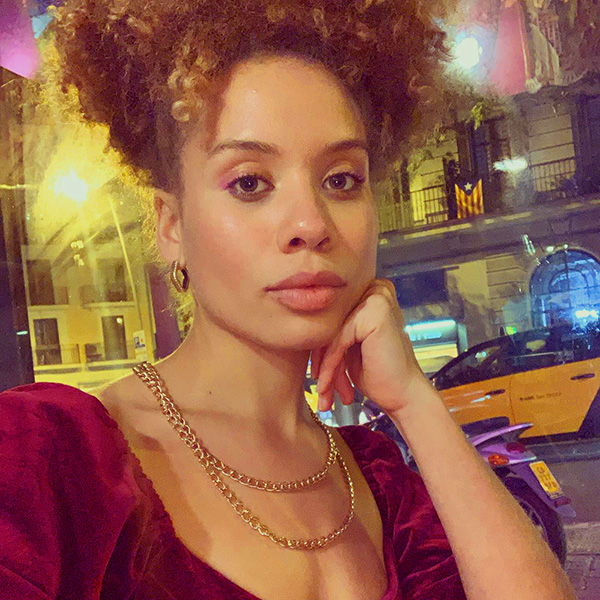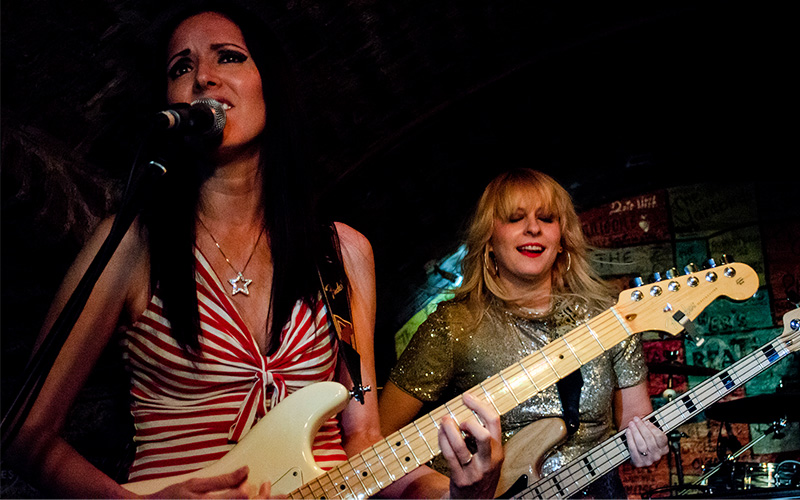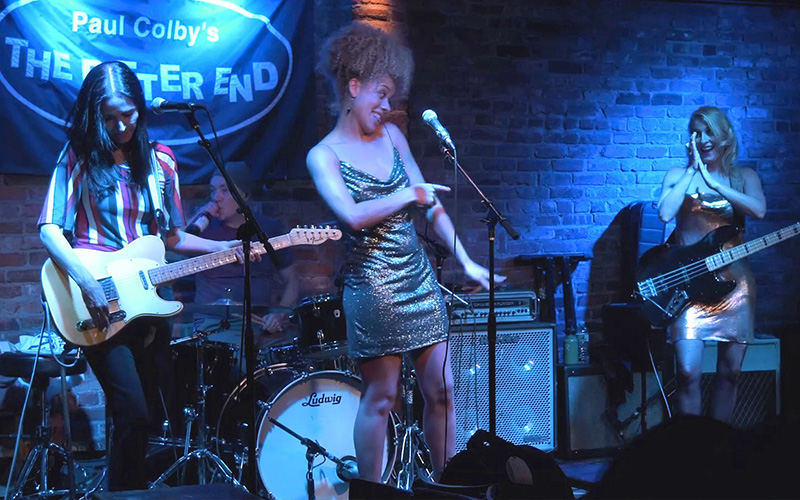 Margaret hails from foothills of the Adirondack Mountains "where different genres of music were accessible and accepted, and all of these sounds and niches had a space to live together." Similarly, she has also a created a life where she balances everything: working full-time, playing music, and most importantly – being a mom. She says it's possible. If you don't stay out until 2 a.m. Her routine keeps her synchronized, just as her bass anchors Slyboots' songs, acting as both heartbeat and harmony. 
KG* steers the song-writing ship and the band typically works off her blueprints. Many of the Slyboots tunes got their start from a song-writing boot camp she was part of that required her to churn out a song a week – no excuses.  She first started playing guitar after meeting Aerosmith's Brad Whitford backstage at Madison Square Garden. Over the course of thirty minutes he encouraged her to follow her dream to get into music, even if she felt it was too late. The following week, she purchased the same sea foam green ESP Stratocaster she saw him play onstage and never looked back.
Although they book it to band practice from three different boroughs 2-3 times a week, Slyboots' collective appreciation for rock & roll and their MO to push aside egos keep them on course. Because above all else, they agree that they need to enjoy this journey.  
Slyboots' music strives to inspire and mesmerize; they want to be that moment of suspension, that memorable New York City high, that "ah-ha" feeling when you get the funny punch line or see art in action. We can't all be cunning masters of musicality; but we can live vicariously through Slyboots' creative ingenuity.